MD-ADW Automatic Double Side Battery Pack Tab Spot Welding Machine-Servo Head Version
General Details
This version of MD-ADW is new arrival, equipped with servo motor welding head, will make more fast, stable and quiet welding.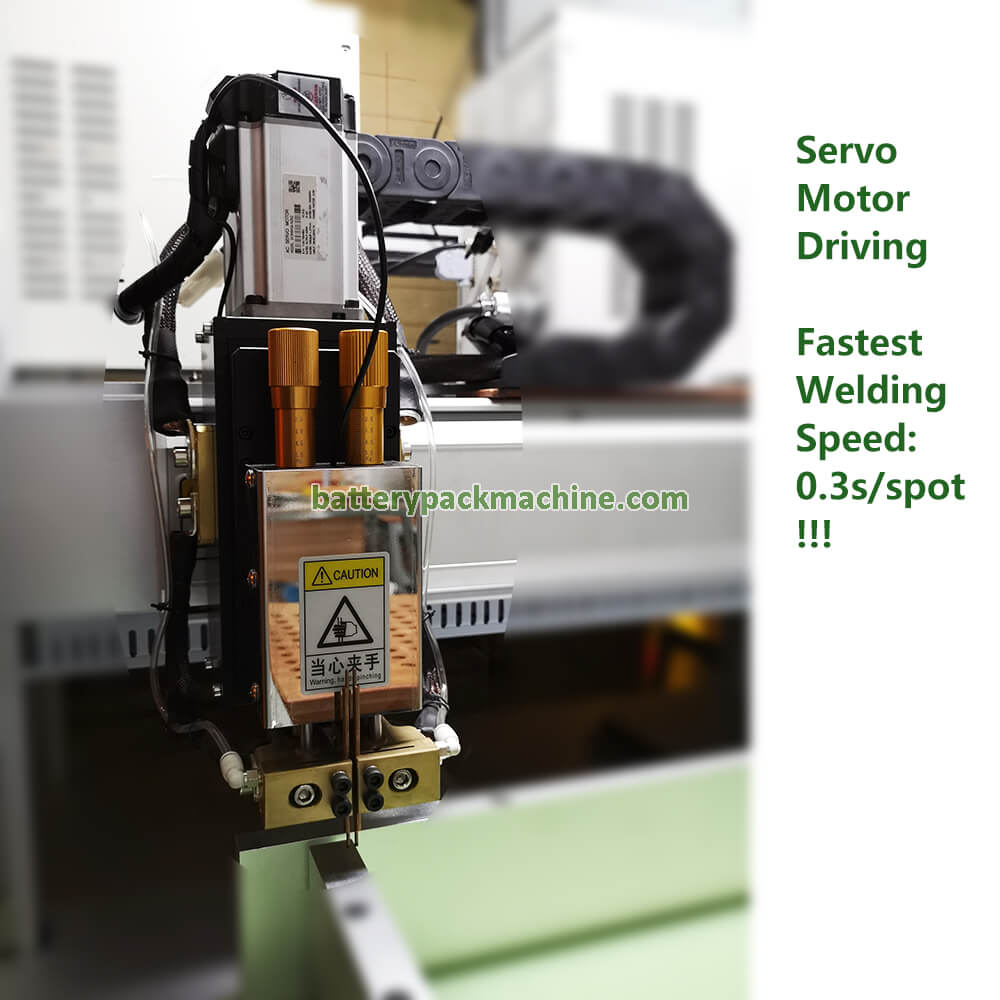 Part 1: Features
1) Suitable for 18650, 26650…battery pack welding, like E-bike, scooter, and electro mobile battery pack welding.
2) Support breakpoint start, automatic start, and manual start.
3) Cold solder joint and sealing off alarm.
4) Easy program, support matrix, array and point program, can welding for any shape and store 99 group parameters.
5) Welding needle abrasion alarm.
6) Build-in welding current monitor, can display real time welding current.
Part 2: Technical Parameters
1) Welder: 5000A Inverter Spot Welder  2 pcs
2) Y travel: 500mm
3) Z travel: 350mm
4) Max Loading: 18kg
5) Welding speed: 0.35s/spot, 5500pcs/h
6) Welding Material: Nickel, Nickel-Plated Steel …
7) Welding Thickness: 0.1 ~ 0.3 mm
8) Max battery number: 300-600 pcs (18650)
9) Max parameters groups: 99 groups
10) Operate system: Embedded system, touch screen user interface
11) Drive mode: step motor and precision guide rail
12) Supply: 220V/50Hz(Automation), 3 phase 380V/50Hz(Welder)
13) Air pressure: 0.4 ~ 0.6 Mpa
14) Size: 900(L)*900(W)*1930(H)mm
15) Weight: 300kg
Facility Requirements
Clean room (If have)
Power supply: 220V/50Hz(Automation), 3 phase 380V/50Hz(Welder)
Compressed Air: 0.4 ~ 0.6 Mpa